ebook: TALENT ASSESSMENTS
Tools to Help You Identify the Right People for the Right Roles, Teams, and Opportunities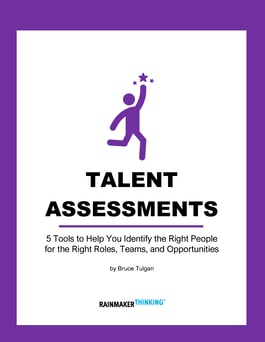 Harness the power of our proven talent assessment process with this eBook. Start by creating a 360° Profile of high-potential talent, and use our 5 competency models to further assess talent, either to inform a 360° Profile or as standalone assessments:
Broad Transferable Skills Inventory
To differentiate rising stars, lower in the organization.
Missing Basics Model
To identify those with strong soft skills.
The 7 Things Indispensables Do Differently
To identify the true go-to people at any level of the organization.
Strong Manager Index
To identify strong mid-level leaders for further development.
Executive Leadership Competencies Model
To identify those who would make great executive leaders.